A Brief Overview of our Research
The overarching goal of the Heart Transplant Research Program directed by Dr. West at the University of Alberta is the development of a comprehensive research focus encompassing specific projects related to cardiac transplantation. These projects range from molecular level 'gene therapy' and cell biology investigations in murine models through to clinical projects that include patient and population outcomes, quality-of-life studies and clinical drug trials. Bi-directional translational research is a crucial component in this regard, bridging the basic laboratory with the clinic. Thus, a strong translational program has the potential to generate key basic findings and apply these directly to clinical issues, leading to changes in clinical practice; likewise, important clinical issues can be taken to the basic laboratory for investigation. This provides a 'bedside to bench to bedside' cycle of research activities that has the potential to change the practice of heart transplantation.
All members of the clinical Heart Transplant Team, including nurses and allied health professionals, are encouraged to become involved in the academic mandate, either by participation in clinical research projects or educational activities. This fosters an atmosphere of enormous enthusiasm and brings innovative thought to both the clinical and research activities. The success of this approach is assisted by frequent interactions between the laboratory-based members and other team members whose activities are solely clinical-based.
Heart Transplant Research Program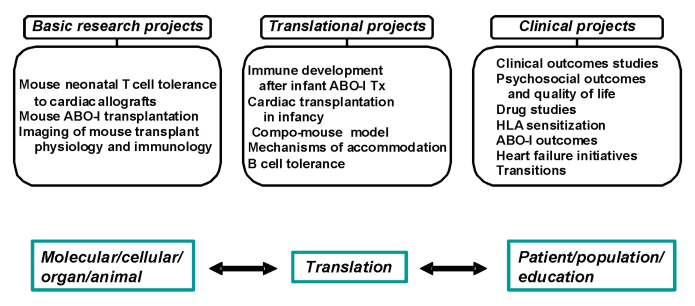 At the University of Alberta, the adult heart transplant program has for a number of years performed more transplants annually than any other Canadian centre, and is recognized for its commitment to advancing transplantation as robust medical/surgical therapy for end-stage cardiac diseases. Due in part to changing demographics for pediatric heart surgery in western Canada (notably related to formation of the Western Canada Children's Heart Network), the pediatric heart transplant program at the Stollery Children's Hospital has expanded dramatically in recent years, now performing annual numbers of transplants equal to Toronto's Hospital for Sick Children. Thus the heart transplant population at University of Alberta includes a large population of patients whose ages span the spectrum from the very youngest infants through late adulthood. This serves as an invaluable clinical resource around which to build a strong program of cardiac transplant research activities, with a goal of providing seamless investigative and clinical programs from discovery through prevention and treatment. The University of Alberta has an outstanding reputation in the field of organ transplantation worldwide, with major contributions over the years to clinical transplantation and transplant-related research in the areas of kidney, liver, heart and islet transplantation, and transplant immunology. Transplantation has been identified by the University and the Alberta Health Services as a priority area for continued academic growth and expansion, particularly the area of cardiac transplantation, with the objective of developing leadership in research and integration with the clinical transplant programs.
RESEARCH PRIORITIES AND DIRECTIONS OF THE WEST GROUP:
A number of the laboratory-based research efforts of our group are related to investigating immune responses to organ transplantation. Neonatal immune tolerance in murine models has been studied for over 50 years, but only recently has this work taken on potential clinical relevance in the field of organ transplantation. Because the heart is the primary solid organ regularly transplanted within the first days of life, cardiac transplantation is situated in the position of leading neonatal tolerance into the clinical arena. A major arm of our basic research focus uses an in vivo model with neonatal mice as recipients of intravenously administered tolerizing inocula derived from various lymphohematopoietic sources, fetal and adult. This is followed by transplantation of primarily-vascularized cardiac allografts and/or skin allografts using microsurgical techniques. A variety of in vivo and in vitro investigations are used to investigate cellular and molecular mechanism(s) of tolerance induction and maintenance of graft acceptance. The murine heart transplant model is an especially powerful and integral part of these tolerance assessments. One eventual clinical goal of this investigative pathway is the induction of immune tolerance during fetal or early neonatal life, in preparation for subsequent heart transplantation. Induction of tolerance to cardiac grafts would obviate or lessen the need for lifelong immunosuppressive drug therapies.
The following projects are underway in various stages of investigation, or are in development with new collaborators at the University of Alberta, and will be continued by the West group over the next 5-7 years:
(click on the underlined headings to expand or collapse text)
BASIC RESEARCH:

Murine neonatal T cell tolerance to cardiac allografts:

The role of regulatory T cells in induction and maintenance of neonatal tolerance to cardiac allografts
Characterization of cellular and molecular tolerizing components of fetal liver cells and adult-derived spleen cells in neonatal recipients, with a leading role played by Dr. Mylvaganam Jeyakanthan, a cardiac surgeon pursuing doctoral studies in the West laboratory
Characterization of the role of tissue-specific antigens in tolerance to cardiac allografts
Real-time in vivo echocardiographic imaging of the physiology and function of the transplanted mouse heart (collaboration with Dr. Mark Henkelman of the Mouse Imaging Centre, Toronto). At the University of Alberta, we will continue and expand these imaging studies of the murine heart transplant model in collaboration with Drs. Gary Lopaschuk and Jason Dyck in the Mouse Echocardiographic Unit of the Cardiovascular Translational Research Centre (CVTRC).

Murine B cell tolerance to ABO-antigens:

Development of lentiviral transduction vectors for human blood group A/B antigens and generation of mice expressing human blood group antigens, work that has been developed by Dr. XiaoHu Fan, a research associate in the West laboratory
Establishment of a developmental immune profile in human blood group-expressing mice to assess B cell responses to blood group antigens as 'self'-antigens and as cardiac graft antigens in syngeneic and allogeneic donor-recipient heart transplant combinations; this model will allow the investigation of mechanisms of neonatal tolerance to blood group antigens in a surrogate system with access to central lymphoid organs and bone marrow that are impractical to study in human recipients of ABO-incompatible grafts.

New collaborative projects under development

T cell tolerance studies, together with Drs. Colin Anderson and James Shapiro in the Surgical-Medical Research Institute (SMRI), with whom the West lab shares journal club, lab meetings and several supervisory activities
Various aspects of alloreactivity, including characterization of human T cell responses in transplantation and correlation with alloantibody responses, and also in autoimmunity and DTH responses, together with Dr. John Elliott of the Dept. of Medical Microbiology and Immunology, and the Alberta Diabetes Institute (ADI), with whom the West group has contiguous laboratory space in the newly constructed HRIF East building
Islet xenotransplantation with Drs. Ray Rajotte, Gina Rayat and Greg Korbutt, also in the Surgical-Medical Research Institute (SMRI) and Alberta Diabetes Institute (ADI)

TRANSLATIONAL RESEARCH:

Several translational projects are under investigation in the West laboratory using cardiac transplant patient-derived specimens:

Cardiac transplantation during infancy: Our work demonstrating donor-specific B cell tolerance in infant recipients of ABO-incompatible heart transplants has been noted as the first human demonstration of neonatal transplantation tolerance. The West group is leading the expansion to a multi-institutional international collaborative effort (18 clinical sites in Canada, USA and Europe, and growing) to examine the immunologic development of infant heart transplant recipients, together with research collaborators Dr. Jeff Platt and Dr. Marilia Cascalho. This project has already been initiated at the University of Alberta, with new collaborators now including Drs. Ivan Rebeyka and David Ross (Cardiac Surgery), Dr. Yashu Coe (Pediatric Cardiology), Dr. Patricia Campbell (Histocompatibility Laboratory) and Dr. Susan Nahirniak (Transfusion Services).

Human B cell tolerance to ABO-incompatible heart grafts
Human T cell and B cell responses after infant heart transplantation

'Compo-mouse': development of a composite model system for in vivo monitoring of immune function of human heart transplant recipients in a surrogate mouse host
Neonatal 'gene therapy': with collaborators in Dr. Jeff Medin's laboratory at University of Toronto, we are participating in development of neonatal 'gene therapy' strategies to induce production of missing enzymes for eventual treatment of storage diseases such as Fabry's disease.
Thrombosis: a new area in which we are developing a collaborative project to study the pathogenesis of microthrombotic angiopathy in the setting of antibody-mediated rejection of cardiac allografts and xenografts in both murine models and human patients. This partnership is evolving with Drs. Patti Massicote and Lazlo Bajzar in the Dept. of Pediatrics at University of Alberta, with whom we previously shared contiguous office, laboratory and conference space.

CLINICAL RESEARCH:

Given the large clinical heart transplant population at the University of Alberta, a number of clinical research directions will continue to be developed in the clinical arena with the combined paediatric and adult heart transplant populations at University of Alberta, including outcomes analyses and clinical drug trials. It is anticipated that important collaborations will be maintained through long-standing well-established collaborative networks with other pediatric heart transplant centres through the international

Pediatric Heart Transplant Study

. Given the exceptionally high interest in ABO-incompatibility in the international transplant community at present, new clinical collaborations are being forged both at University of Alberta (Dr. James Shapiro) and internationally for the study of transplantation of ABO-incompatible liver, islet and kidney grafts. In addition, the following areas of investigation are of particularly high priority:

Characterization of the role of donor HLA-directed B cell responses

on transplant outcomes, particularly on graft vasculopathy, and the development of clinical strategies to deal with HLA-sensitization in the pediatric and adult heart transplant populations. A research collaboration has been established with Dr. Patricia Campbell (Director of the Histocompatibility Laboratory at University of Alberta, noted nationally to be an exceptional transplant HLA laboratory) for expansion of previous studies in this area.

Clinical outcomes of heart transplantation: The study of clinical outcomes of heart transplantation will be greatly facilitated by interaction with the Mazankowski Alberta Heart Institute and the respective Divisions of Cardiology and Cardiovascular Surgery. The evolving Pediatric Clinical Research Centre at University of Alberta and the establishment of the Women's and Children's Health Research Institute, directed by Dr. Thierry Lacaze, and the National Child Health Clinical Research Network, with Dr. Terry Klassen as the project leader, will aid in providing infrastructure and removing barriers to clinical research studies locally and nationally. Important outcomes studies relating to heart transplantation will be assisted further by interactions with iCARE, the centre for health outcomes being developed by Dr. Shoo Lee. In association with the Alberta Research Centre for Child Health Evidence (ARCHE), led by Dr. Terry Klassen, collaborations are being developed with Dr. Shannon Scott-Findley in knowledge translation strategies for pediatric health care. In both paediatric and adult transplant populations, application of qualitative research methods for the study of transplant outcomes have been notably lacking, but this area is growing rapidly for the investigation of ethical issues related to heart transplantation, organ donation, quality-of-life and psychosocial outcomes. Members of the West research team, including former member Dr. Stacey Pollock-BarZiv, a post-doctoral fellow funded by the CIHR and Samantha Anthony, a doctoral student/medical social worker, also funded by the CIHR, are currently carrying out studies in this area. Linking these studies between sites will allow investigation in small patient populations that benefit enormously from a collaborative approach. Thus further collaborations are being developed at University of Alberta with Dr. Charlene Robertson, an expert in pediatric neurodevelopmental outcomes of complex cardiac therapies, including transplantation. The International Institute for Qualitative Methodology and the John Dossetor Health Ethics Centre will provide further important links for expansion of quality-of-life studies, psychosocial outcomes and bioethics related to transplantation.
Linkage with established studies in Alberta Transplant Institute of genomic/proteomic approaches to the study of transplantation outcomes: Given the notable work of Dr. Phil Halloran in establishing a 'transcriptome' for the diagnosis of rejection in the renal transplant population at the University of Alberta, the West group has begun to develop a similar approach to the study of heart transplant patients (and in animal models with the murine heart transplant system) in collaboration with Dr. Halloran, whose group has been funded by Genome Canada.
Pharmaceutical trials for pediatric heart transplant patients:

The pediatric transplant community is in great need of data on the use of immunosuppression drug therapies in studies that are appropriately designed for the entire spectrum of the pediatric population, from newborn to adolescent/young adult. Without appropriate pediatric data, transplant physicians are compelled to use drugs with methods extrapolated from adult data, which are often not appropriate to the growth and metabolism of infants and children. In order to minimize adverse side-effects and enhance efficacy for the pediatric population, we have been working for a number of years with various pharmaceutical companies. An expansion of some of these studies to University of Alberta has begun.